This holiday season has really flown by. Unlike past years it seemed like there was little time to reflect on last year or think about goals for the new year. So, I'm going to keep it easy. This year my quilting goal is, "Just say no." I get seduced by the many, many wonderful ideas and opportunities online and the beautiful fabrics in the stores and I want to do them all and use them all. So, consequently I have several projects mostly finished and that sort of frustrates me. So this year my motto is to just say, "No." I may "Pin" or download a pattern or idea but, at least for the next six months I should be able to keep busy with finishing up my "mostly finished" projects. I'm allowing myself one exception (I know, that's a slippery slope!) The gals at
Fandom in Stitches
will be having a monthly block around the theme of the movie
The Princess Bride.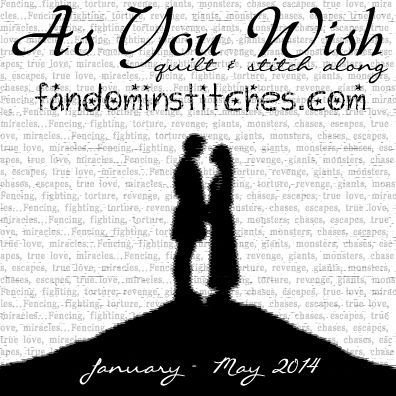 This is an old romantic fantasy comedy from 1987. It sort of has a cult following and the boys and I are part of that cult! We've been known to quote lines from this movie in everyday conversation. Last year I bought them each a DVD of the movie. So, I'm going to take notice of the blocks (this is a paper pieced project) and may play along.
And that was actually my "new business". So, in old news I want to share some of my Christmas presents from this year that I couldn't share before the holiday without ruining some surprises. I made several pants bag ala Jennifer at
Glinda Quilts
. I was gifted one of these by Jen and absolutely love it. She shared a tutorial at the link above. Here are my versions:
The one in the upper left was made with the circle attachment on my sewing machine. Turns out that it is easy to work and really awesome! I don't know why I waited so long to try it out. The three on the bottom left were made for the
sock monkey recipients
from earlier last year.
I also made a few potholders and two aprons (which I forgot to take pictures of).
So, I'm off to work on some blocks for my
Country Threads BOM
project. I actually have the December blocks done but haven't had a chance to take pictures. AND.....if anyone is keeping score, I've finished my step one of
Bonnie Hunter's mystery quilt
. She had a surprise reveal on New Year's day and I'm slowly putting the blocks together....more about that later.